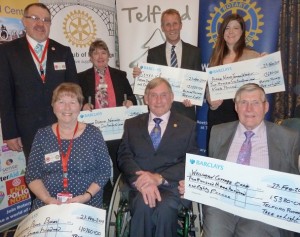 The Rotary Telford Tree of Light held its presentation evening, hosted by Rotary Club of Telford Centre President Sonia Roberts at the Buckatree Hall Hotel on Tuesday 27th March.
This year the Rotary Telford Tree of Light, which is run by the Rotary Clubs of Ironbridge, Telford Centre, The Wrekin and Wellington celebrated its 22nd campaign.  Chair of the Telford Tree of Light organising committee, Rotarian Max Clowes, said, "We are delighted to announce that this evening the Telford Tree of Light will distribute £43,040 to local charities."
Chair of the Trustees of the Rotary Clubs of Telford & Wrekin Trust Fund, Rotarian Paul Booth, under whose auspices the Tree of Light operates said, "This has been an exceptional year in that the Rotary Telford Tree of Light was presented with The Queen's Award for Voluntary Service and has once again raised a record amount for charity."   He continued, "The whole operation can only function with the voluntary efforts of Rotarians from each of the four clubs. The full cost of the appeal is met by the business community, other organisations and the Rotary Clubs themselves. This means that the entire amount donated by the public is distributed to the good causes."
The names of those remembered are displayed around the Tree of Light in Telford Shopping Centre, in Wellington Dawley, Madeley, Ironbridge and Oakengates . The names are also published in the Telford Journal and on the Tree of Light website.  Since 2001 the Severn Hospice has received half of the funds donated with the remainder donated to charities that serve the people of Telford.
Representatives of the charities nominated by the four Rotary Clubs received their donations and thanked the Tree of Light for their support.  President Philip Browning of the Ironbridge Club gave a cheque for £2690 to Sarah Chambers of Admiral Nurses, Dementia UK [Telford & Wrekin]; President Sonia Roberts of the Rotary Club of Telford Centre presented a cheque for £2690 to Ruby Hartshorn of Shropshire Disability Network and President Paul Booth, representing both the Rotary Clubs of the Wrekin and Wellington, gave £5380 to Bryan Benham of Wellington Cottage Care.
25% of the funds raised are now presented to a second charity agreed by all the four Rotary Clubs.  President Brian Richards of the Rotary Club of Wellington presented a cheque for £10,760 to Lynne Stone of Shropshire, Staffordshire and Cheshire Blood Bikes who told the audience that the funds would be used to purchase a new bike which would be called 'Spirit of Rotary'.
Finally Chairman of the Tree of Light Committee, Max Clowes, presented £21,520 to Paul Cronin of Severn Hospice.
In conclusion Max said, "This record year for the Rotary Telford Tree of Light has only been made possible thanks to the wonderful generosity of the people of Telford who donate to The Tree of Light to remember their loved ones at Christmas time.