CD being produced by one of our Rotarians to commemorate the 100th anniversary of the end of WW1.
At £5.00 this is a real bargain and is already raising a substantial amount for Help for Heroes plus, of course, our Rotary branding will be included on the packaging as supporting the distribution of this CD.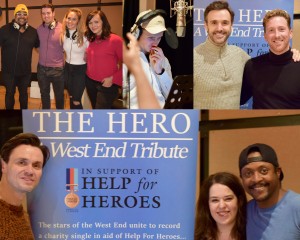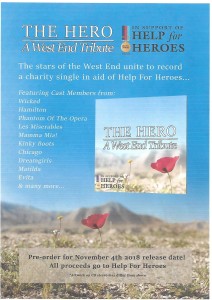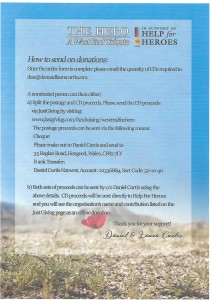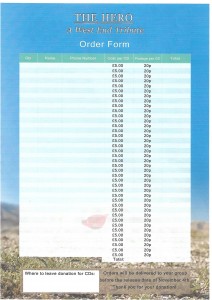 Dan's Song for Help for Heroes
"THE  HERO – A WEST  END  TRIBUTE"
A  SONG  TO  COMMEMORATE  THE  CENTENARY  OF  THE  END  OF  WW1
Rtn. Daniel Curtis is a member of the Satellite Club of Cardiff.  He and his wife Laura are award winning composers and lyricists and the couple have now created a very special song to mark the 100th anniversary of the end of WWI.
Daniel and Laura have received sponsorship from Fortnum and Mason as well as other very well known brands in order to produce their CD free of charge and ensure that all monies are donated to Help for Heroes.
The Rotary Club of Cardiff and District 1150 in Southern Wales are asking all Rotarians across RIBI to support this appeal by agreeing to promote the purchase of the CD which will include the Rotary logo.
For more information about Daniel and Laura and this appeal, you can visit their website:-
https://www.danandlauracurtis.com/product-page/pre-order-the-hero-a-west-end-tribute-to-servicemen-and-women-past-and-pres
Their Just Giving Page:  https://www.justgiving.com/fundraising/westendthehero
In 2013 Dan and Laura released "A Miner's Song" in aid of the Welsh National Coal Mining Memorial which featured over 300 people including Michael Sheen; Matthew Rhys: Ioan Gruffudd and the boxer Joe Calzaghe.  It raised a substantial amount (in excess of £22,000) for the memorial.  The couple feel it is now right to mark the 100th Anniversary of the end of World War 1 with a song and to pay their personal tribute to all those who have fought for our freedom and continue to do so.
Here is "A Miner's Song" which will give you an idea of what Dan and Laura are creating:-
https://www.youtube.com/watch?v=lkkmE_vW12k
You will find attached an order form  ::  "How to send Donations" sheet  and a poster promoting the CD
Thank you all in advance for your support of this very worthwhile fundraising project for Help For Heroes.
Maggie Hughes
District 1150 – Rotary in Southern Wales
DG 2017/18